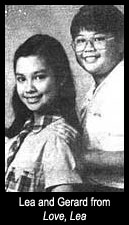 Lea Salonga was born in Manila, Philippines to Feliciano Salonga and Ligaya Imutan on February 22, 1971. She made her professional debut at the age of 7 in Repertory Philippines' production of The King And I and has since appeared in Cat On A Hot Tin Roof, Fiddler On The Roof, The Rose Tattoo, Annie, The Sound Of Music, The Goodbye Girl, Paper Moon and The Fantasticks. At the age of 10, she began her recording career and received a gold record for her first album Small Voice. She has also hosted her own musical television show, Love, Lea, with her brother, Gerard Salonga. She has also opened for Stevie Wonder during his concerts in Manila.
In 1984, Lea was one of the Filipino representatives to the Asian Radio and TV Artistes Exchange held in Singapore. In 1985, she opened for Menudo, a Puerto Rican pop group, during their concerts in Manila. She also recorded two songs and a music video with Charlie Masso, a former Menudo member, for the Young People's Project, a campaign to encourage sexual responsibility in adolescents.
In 1989, Lea went to London to play the role of Kim in the Sir Cameron Mackintosh's blockbuster musical Miss Saigon for which she received the Lawrence Olivier Award. In 1990, after her stint in London, she flew back to Manila where she had a homecoming concert called A Miss Called Lea. In 1991, she went on to portray that role on Broadway where she garnered the Tony, Drama Desk and Outer Critics Circle Awards. While in Miss Saigon, Lea performed in the annual Macy's Thanksgiving Parade. She then went on to record the singing voice of Jasmine for Walt Disney's animated hit Aladdin, and soon after, the singing voice of Tuptim in a new recording of The King And I with Julie Andrews, Ben Kingsley. Lea also performed at the Hollywood Bowl Orchestra to celebrate the golden anniversary of this Rodgers and Hammerstein classic.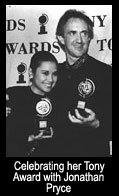 In 1993, Lea played the role of Eponine on Broadway in Cameron Mackintosh's Tony-award wining musical, Les Misérables. Her popular staging of the role was repeated in the US National Tour production in Honolulu and in the London production. During the 65th Annual Academy (Oscars) Awards, Lea performed the song A Whole New World with Brad Kane from Disney's Aladdin, where the song won an Oscar. That same year, she released her self-titled international debut album with Atlantic Records, which has gone platinum and gold in many countries around Asia.
In 1994, Lea played the role of Eliza Doolittle in Repertory Philippines' My Fair Lady and the role of the Witch in Singapore Repertory Theatre's production of Into The Woods. She then opened for Frank Sinatra's Manila concerts and performed at the Hollywood Bowl in a concert entitled Arabian Nights as part of 1994 World Cup Week. Lea also played the role of Sandy Dumbrowski in Team Image Entertainment's production of the musical Grease in Manila and appeared in a special tribute concert called The Music Of Alain Boublil and Claude-Michel Schönberg with other Filipino artists performing selections from the musicals Les Misérables and Miss Saigon.
She made her US television film debut when she played the role of Geri Riordan in Hallmark Hall Of Fame's Redwood Curtain on ABC with Jeff Daniels and John Lithgow. Lea also recorded a single with Peabo Bryson called How Wonderful We Are, a part of a new album called People, which includes selections by other artists such as Vanessa Williams, Al Jarreau and Chaka Khan. She made another appearance at the Hollywood Bowl in a concert called Music Tells A Tale, appearing with Tyne Daly and Reese Holland.
In 1995, Lea reprised the role of Eponine as part of the Dream Cast in the 10th Anniversary Concert of Les Miserables at London's Royal Albert Hall.
In 1996, Lea performed in a benefit concert called The Sounds of Christmas at the Meralco Theater in the Philippines, where Gerard Salonga debuted as a musical director.
In 1998, Lea was again invited to participate in an all-star tribute concert for Sir Cameron Mackintosh called Hey Mr. Producer!, where she performed in the segments of Miss Saigon, a Sondheim medley and Les Miserables. She then recorded the singing voice of the lead role for Disney's animated film Mulan. Lea also visited San Diego, California to render her talents in a gala benefit for the World Affair Council where she officially announced her return to Broadway.
In January 18, 1999, the most anticipated return of Lea Salonga in Broadway took place when the Broadway Theater's red curtains opened up for another performance of the role of Kim in Miss Saigon, the role she originated in London in 1991. She then headed to Singapore to perform the role of Sonya Walsk in the Singapore Repertory's production of Neil Simon's musical They're Playing Our Song, which opened at the Jubilee Hall of the Raffles Hotel. In November 1999, after a brief trip to Phuket, Thailand, Lea flew back to Manhattan to perform the song "I'd Give My Life For You" from Miss Saigon at the New York Hilton's gala of the Actor's Fund of America's Curtain Up to honor Sir Cameron Mackintosh and Bernadette Peters.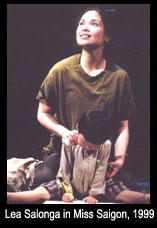 At the end of the millennium, the Philippines welcomed the new year with a Homecoming Concert from Lea which was held at the Westin Philippine Plaza Hotel. Due to the popular demand, Maximedia Productions provided two more concerts, which were held at the Philippine International Convention Center. In June 20, 2000, Lea again played the role of Sonya Walsk in the Maximedia's Production of Neil Simon's musical They're Playing Our Song at the AFP Theater in Camp Aguinaldo, where Gerard Salonga was the musical director.
On August 17, 2000, together with other popular Filipino artists, Ms. Salonga participated in a concert called The Best of Manila, to benefit the World Wildlife Fund's Conservation Program.
On September 1 & 2, 2000, Lea will perform in another concert called Songs from the Screen to benefit the Symphony Musicians Cooperative of the Philippines.
For three months starting October 1, 2000, together with selected former cast members of the US, European and Australian productions, the first Asian Tour of Miss Saigon will open at the Cultural Center of the Philippines in Manila where Lea will reprise her role as Kim.
Lea Salonga is currently working on three soon-to-be-released recordings, in addition to her recent best selling albums, Lea...In Love, By Heart and Lea Live - The Homecoming Concert, Volumes 1 & 2. She will then fly back to the US to continue her studies.
---
Awards and Recognitions
Laurence Olivier Award (1991) - Best Actress in a Musical ("Miss Saigon")
Tony Award (1991) - Best Actress in a Musical ("Miss Saigon")
Drama Desk
Outer Critics Circle Awards
One of Asiaweek Magazine's 20 Future Greats
One of the 10 Most Beautiful Filipinos
"Sana Maulit Muli" ("I Wish It Would Happen Again") - nominated for Best Actress in FAMAS (Philippines' Oscars)
Gold Record for the album "Small Voice"
Platinum and Gold Records for the self-titled album "Lea Salonga" from Atlantic Records
Triple Platinum Records for the album "Lea...In Love"
Platinum and Gold Records for the album "By Heart" from BMG Records
---
Performances and Roles
Musicals:
Film/Television:
Concerts:
Opened for Mr. Frank Sinatra
Opened for Mr. Stevie Wonder
Menudo Concerts
Ms. Lea Salonga, in her teens, joined a series of concerts with Puerto-Rican pop-group, Menudo.
The Filipinos of Miss Saigon
The farewell concert of the Filipino cast held at the Cultural Center of the Philippines.
A Miss Called Lea
Ms. Lea Salonga's homecoming concert after her Miss Saigon stint in London's West End.
Mt. Pinatubo Benefit Concert
Ms. Lea Salonga shares her talent in a benefit concert for her fellow Kapampangans who were victims of the Mt. Pinatubo eruption.
Music & Miracles
A benefit concert with Martin Nievera for victims of Typhoon Rosing.
A Song of Life: An Evening with Lea Salonga (as part of World Cup week 1994)
The Music of Claude Michel-Schönberg and Alain Boubil
Tribute concert for the geniuses behind Miss Saigon and Les Misérables with Filipino performers
The Sounds of Christmas
Music Tells a Tale
Music of Miracles
65th Annual Academy Awards
"A Whole New World" w/ Brad Kane
Les Miserables 10th Anniversary Concert
Hey, Mr. Producer!
Tribute to Sir Cameron Mackintosh
World Council Affair
The Best of Manila
Songs From The Screen